Did you see?? Enter now to win Cilea lash enhancer - endorsed by one of the Real Housewives! — while you still can.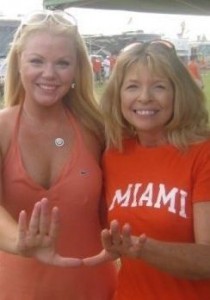 Meet Mary. I first met this blonde gal at a Junior League committee meeting and it was not 10 minutes in to the meeting that I discovered her intense passion for the University of Miami, her alma mater. I'm suuuurrreee she loved that I'm a Gator! This girl is all about the Hurricanes day and night, football season or not. She even has a blog called Eye of the Hurricane, oversees the local game viewings and the athletic programming for the local alumni club. Is this the gal to share 5 must haves for tailgating or what?! haha. First, funny story about Mary:
Even though she grew up in a football house it totally wasn't her thing. On her way to campus for the first time, she pit-stopped at her PaPa's house in Arkansas when she saw a Sports Illustrated with the cover story "The Top 10 Players the NFL Wants to Go Pro Now." Mary looked up and asked her mom: Does UM have a football team? Mom walked away shaking her head. Now she's cheering (and cursing!) with Mary at games, and baking for days to prep for tailgates. Check out mom in the pic with her!
With college football season starting this weekend, here are, in her words, Mary's top 5 must haves for tailgating like the goddess you are:
Fashion: Whenever I see females dressed in jeans or shorts (or worse, jorts), and a t-shirt at a game, I cringe. Ladies, this is a football game not the gym. Pull yourselves together. Look around you! Where else are you going to find this many eligible bachelors with whom you share the most important commonality for marriage and procreation? The essentials are simple and easy to find, just have to look throughout the year: game day dress, game day bag, game day shoes, and other accessories to show that you may be out there drinking beer with the boys, but make no mistake: you're a lady. game day picture:  dress: BCBG; bag: Kate Spade; Foam Hands: supplied by 'Canes fan who liked my "spunk"; beads: dirty old man who stopped by my 12 hour tailgate; Not pictured, shoes: Lilly Pulitzer.
TAGG tip: truth-be-told, I beg to differ… I love a cute dress (and go gaga for anything orange and blue!), but also love a vintage-inspired tee with a pair of skinnies or flares as much as the next gal! And, hey, I snagged a man.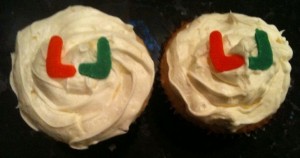 Food: You might think that food is just food; so just get some Bubba Burgers and some bags of chips and call it a tailgate. Blasphemy. Don't you understand that the more effort you put into the tailgate, the better your team will play (except 2010 vs. FSU, no idea what went wrong there, my tailgate was awesome!)? For ideas, check out my Eye on Tailgating features, or my other site, Game Day Cakes. And, keep in mind that even with your school color plates, plasticware and napkins, your guests probably won't use them. Focus on hand-held foods unless it is really something spectacular, like my buffalo chicken dip or pulled pork enchiladas. As for cocktails, it goes without saying that you need at least 200 jello shots in your team's colors.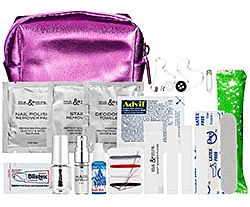 The "Tailgate Mom" Kit: Yes, I know, I treat tailgates like prom. It's part of my charm.  I probably should have mentioned at the onset that a spray tan and Brazilian Blowout is a pre-game grooming requirement.  But, I digress . . . Sephora came out with the kit in the pic above that solves a lot problems and for $13, it's a great investment. More items needed: Arbonne oil-absorbing powder / Bath & Body Works anti-bac gels (in team colors of course) / Bath & Body Works cooling sprays / Hair clip (because it's 94 degrees with 99% humidity out and when you get roll your hair up in a bun and clip it and later unclip when less hot, you will have sexy waves, not flat, frizzy or just all around ick hair) / baby wipes (unless you have a bladder of steel or an RV).

Tailgate Tunes: I might be known for my baking and wearing a dress and heels on a Miami September Saturday, but nothing gets me more hyped and ready to growl at unsuspecting opponents' fans like a little my personalized tailgating songs. My UM favorites: "[Bleep], I'm From Dade County," "Miami Hurricanes Ballin' Boys Remix," "Rock You Like a Hurricane," or "Thunderstruck," and of course the Miami Fight Song and Alma Mater. iPods are great for this, and you can always find some guys who know how to hook it up to speakers and all that jazz.
Optimism:  The last thing you want at your tailgate are a bunch of Debbie Downers. I go into every season believing (however far-fetched from reality) that the 'Canes can win every game. That we will win two national championships (THAT WAS NOT PASS INTERFERENCE!!!!) like we technically did when I was in school, reminding myself that we still have the most title rings than any school in the last 25 years, the most players in the NFL (fact: the last week a 'Cane in the NFL did not score a touchdown was in 2002), and that I can control their performance by how awesome my tailgate is (maybe this section should have been called "superstition" instead).
Whatever team you cheer for, remember this is college football, where every game counts, and week to week, anything can happen! I hope these tips help all you TAGG ladies have a happy, fun, and successful tailgating experience!