Meet Jordan.
I haven't even met her and I can tell by her blog posts,
tweets
and emails that she's a down-right hysterically funny, spunky, crazy adorable chick. Like the kind of girl you know you'd have a freaking blast with if you hung out. Jordan lives in California yet through six degrees of seperation (and a seperation of the continental United States!), we actually know a person or two in common. And, more fun than that… we discovered we're sorority sisters (woohoo, aephi!).
Besides being a working girl, she shares her life's musings on her bloggie,
Queen of L.A.,
which is a total riot. Especially since it centers around her being… the Queen. Oh, and her intense obsession for shoes. Now, I love shoes, but this girl lurrrrvveeees shoes! She also loves leopard and pink, and did I mention shoes? Ha! Def. check outk her blog and say hi on
Facebook
. Excited to share with you her post today.
Check out her 5 must haves, in her words… promise you won't be shocked by #5!
I cannot tell a lie – I was so flattered when Alyson asked me to guest post on The Average Girl's Guide! Being a part of such a wonderful and supportive community is one of my favorite parts about blogging, and I love all the interesting people I've met through our blogs. It's a very cool feeling to read the words of someone you don't know and still manage to feel instantly connected to them! Anyway, I think Alyson is fabulous, and I'm so glad to be here today chatting with all of you

Hope you enjoy!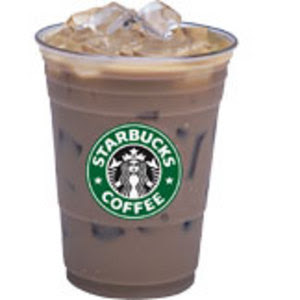 Iced Nonfat Chai Tea Latte / Starbucks
If you met me in real life, you would instantly know that I'm someone with a LOT of energy. "How are you so wide awake right now?" people constantly wonder aloud at 7 a.m. "How many cups of coffee did you drink?" Ha! The funny thing is, I'm NOT a coffee drinker – hate the taste! I'm a tea girl – a chai tea girl, to be specific. I like to start my days with an Iced Nonfat Chai Tea Latte from Starbucks – light ice, please.
So refreshing!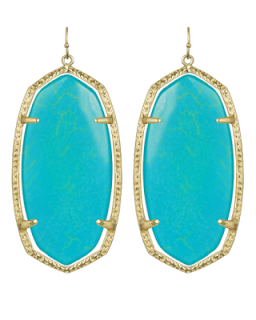 Kendra Scott earrings
If I had to choose my favorite feature, I would probably say my eyes – I was blessed with pretty blue eyes (thanks Mom!) and like wearing anything that draws attention to them. I have three pairs of
Kendra Scott
Danielle earrings, but the
turquoise ones
are my absolute favorite – the color is perfect and looks AMAZING with a tan!
TAGG tip: go to her web site to enter your email addy to get 20 percent off your online purchase! And, ps: been dying for same pair Jordan has, so if anyone has an extra pair just laying around…
Essie nail polish
Confession: I am a chronic nail biter. The ONLY way I keep them out of my mouth is to keep them bright, shiny, and polished with a pretty color. My favorite line of nail polishes, hands down, is Essie – I have started amassing quite the collection! My favorites are
Chinchilly
(a great basic grey),
Demure Vixen
(see pic; such a unique opal-y purplish pink), and
Turquoise & Caicos
; (the prettiest aquamarine – so gorgeous on toes)!

Chowhound
If you read my blog regularly, you're definitely aware of the things I love – fashion, friends, fun, and FOOD! I am a definite foodie – I pride myself on knowing all about the new yummy places to eat in LA. One of my favorite websites that keeps me up to date on lots of "food news" is Chowhound – it's got a great message board where anyone can post food-related questions about their city. Trying to find a good brunch spot in Miami to take your visiting sister-in-law? Wondering what supermarkets in Arizona sell fresh shrimp? Interested in reading a review about the new dim sum place that just opened up in Chinatown?
Chowhound has all the answers for you. Such a helpful and interesting resource!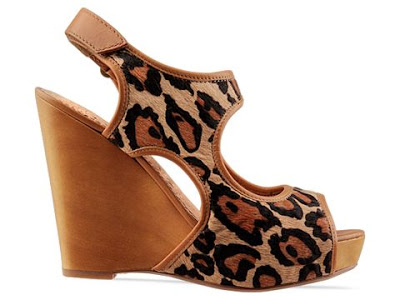 Same Edelman "Kendall" wedges
These Sam Edelman shoes are only a week old, but I'm already considering them a must-have! After banning myself from shopping for an entire month (head on over to my blog to hear all about the trials and tribulations of NO SHOPPING MAY), the very first thing I bought on June 1st were these babies. They've got a reasonable heel, a gorgeous leopard print (my favorite!) and they're easy to put on, thanks to their Velcro strap! Leopard's not your thing? They come in black leather too.