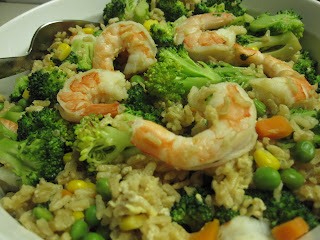 Continuing on my journey of sharing a new recipe with you gals each week, here's a new one for you:
Best part? Besides tasting awesome, it's pretty healthy, too.
Unlike traditional fried rice, this gal didn't "fry" hers and used a heartier brown rice instead of white. I also upped the veggie quota, loading in the broccoli so we're eating less starch and more greens. The dish is my favorite kind: a one-stop-shop. No need for a bread plate, a soup bowl, or space for other items. It's all right here in this perfect little dish. Enjoy!
Ingredients:
2 cups dry, brown rice (you can use white), uncooked
1 cup chicken broth
2 tbsp. vegetable oil
2 eggs, lightly beaten
3 tbsp. soy sauce (I used the low sodium variety)
Shrimp, lots and lots of shrimp!
Frozen peas, carrots and corn, thawed
I bag of broccoli
Directions
Heat 1 tbsp. oil in a large skillet over medium heat.
Add in broccoli, saute until cooked through (about four minutes). Set aside. (You can also steam or blanch if you prefer). Just look for that bright green color.
Heat 1 tbsp. oil.
Add in rice, brown slightly (about three minutes). Add in eggs, scramble until cooked thoroughly.
Add broth, peas, carrots and corn, and soy sauce; bring to a boil.
Remove from heat. Let stand five minutes so rice absorbs the liquid.
Add in shrimp and warm through with fried rice.
Serves 4-5.
Enjoy!
xo
Alyson