If you're entertaining this fall, get ready to add this to your arsenal! BAKED BRIE!
It's my go-to app dish, not only because it's super easy to make, but because people literally go crazy for it. Like, crazy! It's assumed I spent a good deal of time in the kitchen preparing yet it's a 10 minute prep and about a 15 minute cook time. Awesome, right?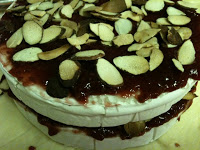 inside of the baked brie

Ingredients
- 1 8 oz. round brie (though you can certainly buy the smaller one; just use less of the crescent roll)
- 1 (8-count) can crescent rolls
- preserves; I opt for raspberry
- 2 tsp. toasted sliced almonds (to toast just stick in the toaster oven or on the stove top for a few minutes; keep an eye on them so they don't burn!)
Directions
- Lay out on a greased cookie sheet the unrolled crescent roll in a rectangle and delicately push together any loose seams.
- Slice brie horizontally in half (best done when cold).
- Put the bottom half of the brie in the center of the flat crescent roll and cover with a layer of preserves and toasted almonds.
- Put the the top of the brie on and add another layer of preserves and almonds.
- Fold up the crescent roll around the brie and just patch as needed. You want to be sure none of the brie is exposed otherwise it could leak while cooking.
- Cook according to the crescent dough package, at about 350 degrees for 12 to 15 minutes or until golden brown.
*** For another variation, swap out the preserves, for 1 tsp. ground cinnamon, 1/4 cup raisins and the sliced almonds. YUM!
As you can see from the pic on the right, I have a dedicated "brie dish." I make this so much (and maybe people want it more?!) that some awesome friends D & E got this for me. Woohoo. Love.
ENJOY!