When you think hiatus, I doubt you think almost a year and a half, but I'm back… with some damn good excuses, err I mean reasons. First, there was pregnancy and then of course a newborn, and a full-time job. And, if I wasn't busy and sleep deprived enough, life threw at me an extra curveball… right on my 30th birthday. A few months ago, this average girl got diagnosed with a one in a million disease: transverse myelitis. Transverse-what? I know, I feel the same! Long story short, severe lesions quickly developed along my entire spinal cord (worst 10 percent my neurologist has seen; awesome) that caused me to become temporarily paralyzed; get burning and pins and needle sensations on my legs; lose my ability to pee; write my name; you name it. Just 34,000 or so people in the world have this…. lucky me. I'm doing a heck of a lot better but still dealing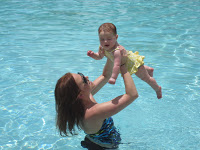 with some not to average things. Won't bore you with those details except to say that I'm now also sans a full-time job, so besides some PT and doctor appointments, I have plenty of time to devote to this blog… and love, love, love the idea of just being average again!
So stay tuned, add The Average Girl's Guide to your RSS feed, your Google reader, your fav places, whatever it is that you do to find me on a regular basis, and I'll do my best to fill you in on being a pretty fab average girl… and mom, too. My amazing little chickie, Sarah Hayden, now eight months, has opened my eyes to an entirely new world of baby clothes, toys, you name it!