Exciting news in the 'summer sipping' front: lots of delicious, fun and easy-to-make cocktails on are the horizon this summer at The Average Girl's Guide! Thrilled to announce that we're partnering with Pinnacle Vodka over the next few months to share really great cocktails for a girls night out (or in!), beach and pool days, BBQ's or just a lazy Netflix binge date night on the couch after work… or after the kids finally go to sleep.
I made a quick trip to NYC last week for Pinnacle's Cocktail Club, meeting with a handful of other fabulous bloggers, the Pinnacle team, and master mixologist, Brian Van Flandern. This guy was out-of-control amazing! We learned the proper way to shake, stir and mix cocktails. How to pour, how to even out a drink's sugar or alcohol factor when it's not tasting just right and more. Don't worry, I was so fixated on sampling the cocktails — ya know, quality control! — that I can't promise how much info I retained so it makes me happy that my amateur status should suffice since Pinnacle has an impressive 42 flavors (!) to play around with. Plus, open mentioning my anxiousness about crazy concoctions, the Pinnacle team told me they're all about the easy cocktails, not ones that require so much time and ingredients that your guests are enjoying your party without you. So. My. Style!
Here's a few fun photos from the night, along with my favorite new cocktail recipe…
With my friend, Beth, my partner in crime for our quick trip to NYC. Trust us when I saw we didn't let monsoon-like conditions get in the way of some shopping in Soho, and seeking out good eats (have to maximize your meals in NYC; each one counts!).
During the evening, we rotated among six tables, sampling a cocktail at each — with separate food stations themed to each. The Tropical Martiki was my fave… it's so easy, and refreshing. It's this easy:
1 part Pinnacle Tropical Punch Vodka
2 parts iced tea
shake, pour, and garnish with tropical fruit
Check out all these fun table settings… notice the back yard BBQ's (whipped vodka, anyone?), sweets with cinnamon roll vodka (could be dangerous!), plus other fun settings that could be inspiration for fun parties this summer.
Continue to check back here this summer for delicious new recipes, plus follow TAGG on Instagram for all our #PinnacleCocktailClub moments!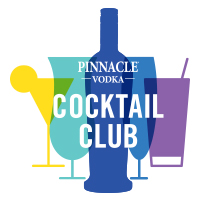 Pinnacle Vodka shakes things up with unexpected experiences and delightful discoveries. Explore with other fun flavors at pinnaclevodka.com. Check us out at facebook.com/pinnaclevodkas, or find more fun entertaining and drink ideas on our pinterest page at pinterest.com/pinnaclevodka.
Pinnacle® is a registered trademark of Jim Beam Brands Co. and is used with permission.  This is a sponsored partnership, with Pinnacle® Vodka, via Mode Media.  The information, comments, and ideas expressed on this website are those of the author and do not necessarily reflect the opinions or positions of Jim Beam Brands Co., its affiliated companies, or any of their directors or employees.