Another delicious, easy and healthy recipe from our food & photog contributor, Libby. Yum! This is one of my personal favorites…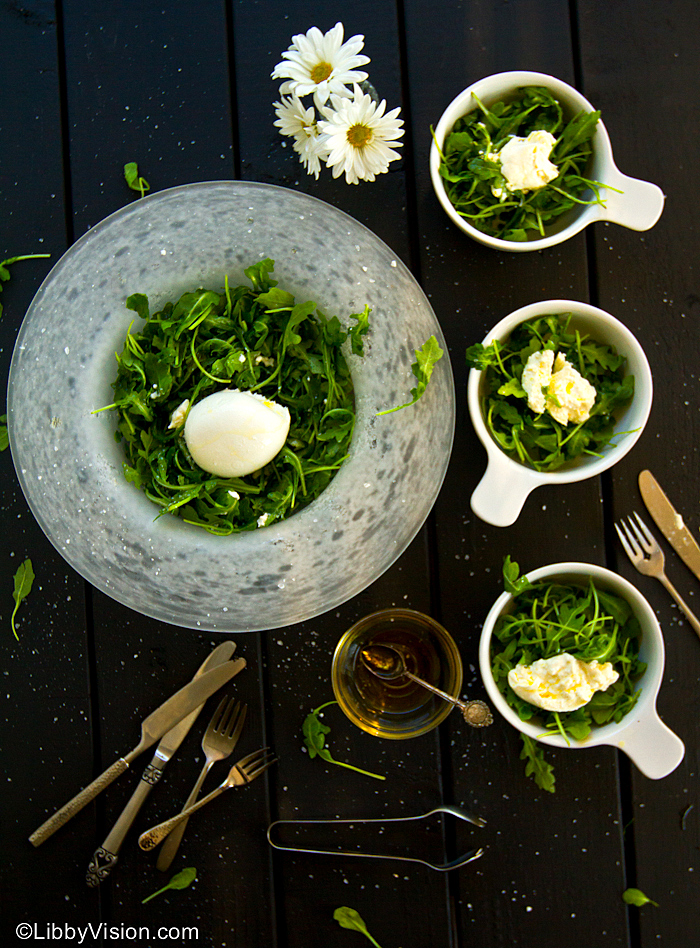 My introduction to burrata came from a charming, Italian gentleman, who handmade the cheese in enormous vats – an old-world cheese artisan that I had driven 50 miles to meet. To say I was entranced wouldn't even begin to cover the spell that was cast that first day. Handful after handful of beautiful, pillowy milky-colored cheese emerged from his fingertips within moments. Magical. On the outside, burrata looks a lot like fresh mozzarella. But once you cut into it, it's like releasing an egg of more soft mozzarella that's been infused with cream. In a word – amazing.
My Italian friend told me the best way to eat it was on a bed of arugula, drizzled in olive oil and sprinkled with sea salt.  I took home the fresh cheese and the next day, I visited a local farm for the last of its spring crop of arugula. That night, I did just as he instructed – using high-quality olive oil and big, fat kosher sea salt. I served it for a simple dinner party. It was by far the easiest salad I've ever served for company and a truly fantastic explosion of flavors.
Since that first night, I've had this salad many, many times. I've served it for many more dinner parties and the bowls have always come back clean. Pair with a Verdicchio – a crisp Italian white wine for an even more elegant experience. I've eaten it myself when I needed a special treat. I've used it as a base, then topped with grilled chicken and cashews for my fiancé and I. However you serve it, there's nothing quite so satisfying as that first cut into it that releases the creaminess as it rushes out and coats the arugula.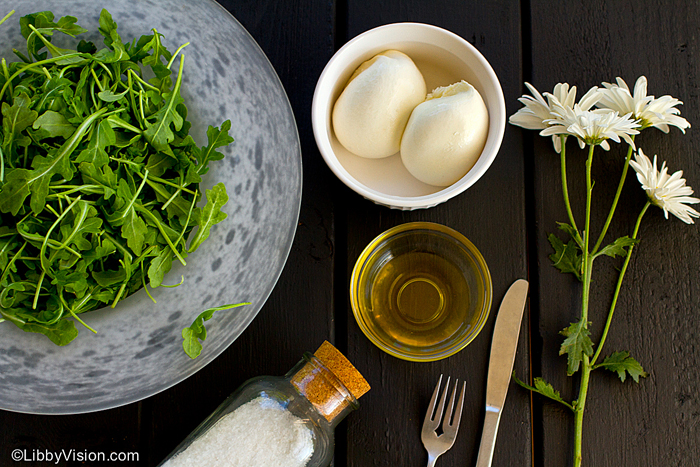 Recipe
4 or 8 ounces burrata, (4 ounces per two people)
4 ounces fresh arugula
High-quality olive oil
Sea salt (approximately 1/4 tsp)
Place arugula in a salad bowl. Top with the burrata rounds. Drizzle olive oil over salad and sprinkle sea salt on top. Cut into burrata, allowing cheese to coat the arugula and serve.