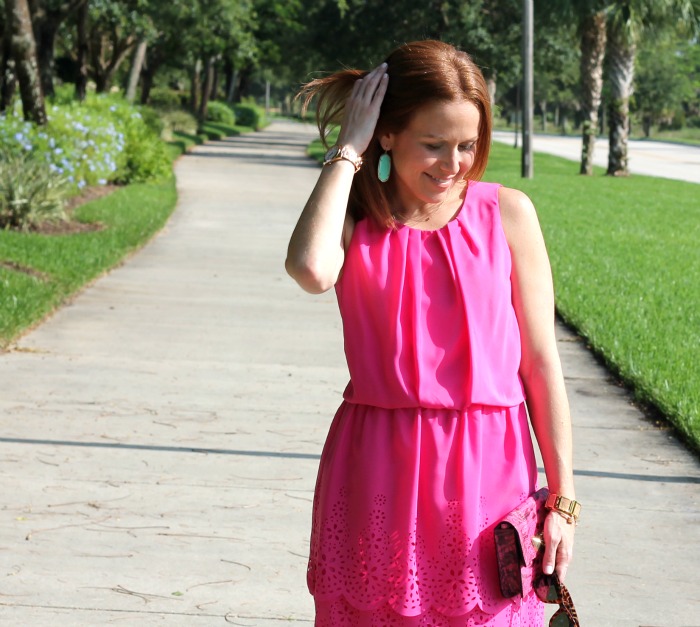 Summer has put a total spin on my typical wardrobe choices. While Fall/Winter/Spring had been full of pants to work, and weekend denim, lately the only thing I want to grab is a breezy dress or a pair of shorts. Think we all know that dresses are amazing — especially when you find the right one for your body — because it's one item and it's an entire outfit in one. Talk about a home run.
I've been playing a lot more with different color combinations, in large part thanks to these mint Kendra Scott earrings (I wear constantly). Since green and pink are such a great combo, taking a hue in the green range gave me the confidence that this worked… and, as I always say, it's just one day (worse case scenario).
Keep reading for more pictures, and where to buy….dress: c/o london times // shoes: steven via loehmann's // bracelet: jcrew (<$30 cork, gold links) + c/o derng // earrings: kendra scott (and, smaller)// clutch: c/o ann taylor (similar, or this) // sunglasses: target // rose gold watch: c/o caravelle by bulova, from lucky fabb
When it comes to polish, apologies in advance for lack of diversity: I'm obsessed with Essie's Marshmallow for my hands — the perfect not-too-harsh white — and a purple on my toes. This OPI A Grape Fit is new to me, and I love it. Otherwise I love Essie's Play Date.
PS: Abundantly clear based on these photos that this girl needs a tan. What's your favorite product to give yourself that faux tan glow??