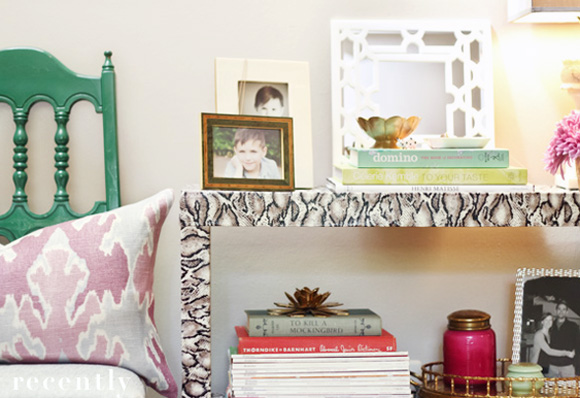 In between trying on an insane amount of clothes for my upcoming trip to New York and keeping busy in the office, I got a bit of reading in online. Procrastination; it's kind of the best. Here are my favorite reads from the week:
A DIY faux snakeskin table that actually looks pretty easy to accomplish. Most gorgeous thing ever.
This week I gave my hair a little side bun action, wondering if I looked chic or like I couldn't do a straight bun. But apparently it's a thing, and here's a tutorial to do it way better than I did the first time.
A thoughtful read about being 'blinded by the label,' something I have a feeling many of us can relate to.
Been dying to make this healthy-ish, non-dairy ice cream for ages. A Beautiful Mess has me salivated — and motivated to take action! — with these photos. Oh, and, bloggers: they also have this great tutorial for how to make collages (can you tell I'm a fan of this site?!).
Yes, it's Labor Day weekend. No, you don't have to listen to the old rule that you can't wear white after Labor Day. Just edit out the summer style and add a cozy knit, a classic black + white style, and other warm tones. Here's five ways to style white long after this weekend is over.
Interesting read how model Coco Roche is more than a size 0, faceless woman walking down the runway. Thank goodness. Check out how she's creating a brand for self at an age that women are aging out of her industry. Yes, that's 23.
PS: see my guest post on Trend Hungry? Sharing one of my favorite places to score a deal, Piperlime.
And, who's shopping this Labor Day weekend? I'm in love with this from J. Crew Factory (select items are 40 percent off), and just bought this and this sequin amazingness from Express, where almost everything is 30 percent off.